Posted June 12, 2018 in Melasma, Skincare
SUN AND SAND…SUMMER HAS BEGUN!
Summer is finally here! It's the time of year when we're spending as much time as possible outside with family and friends…hooray! Along with all of the fun, summer also means lots of sun exposure and it's more important than ever to protect our skin from damaging UVA/UVB and infrared rays and painful sunburns.
Skin cancer is one of the most common cancers in the United States, according to the American Academy of Dermatology.
5 facts about Skin Cancers :
1. Current estimates are that one in five Americans will develop skin cancer in their lifetime.
2. Before age 50, melanoma incidence rates are higher in women than in men, but by age 65, rates are twice as high in men.
3. Melanoma in Caucasian women younger than 44 has increased 6.1 percent annually, which may reflect recent trends in indoor tanning.
4. Melanoma is the second most common form of cancer in females age 15-29.
5. Melanoma incidence is increasing faster in females age 15-29 than in males of the same age group.
Knowing the facts if just part of the battle! The most important part is protecting yourself!
At Mountcastle Medical Spa and Laser Center, we only carry the best products on the market! Here are some of our favorite sunscreens!
All Good Sport Sunscreen SPF30 (Body Sunscreen)
Active Ingredients : Zinc Oxide
*infused with Calendula (powerful medicinal plant), contains organic green tea, rose hips and buriti oil for repairing damaged skin
*Organic – Oxbenzone Free – Gluten Free – Vegan – Non-Nano – Biodegradeable Coral Reef Friendly
*SPF 30 UVA/UVB Broad Spectrum Protection, 80 minute water resistant
*Easy application for all ages
*Affordable
SkinMedica Essential Defense Mineral Shield SPF 32 ( tinted and non-tinted )
Active Ingredients: Titanium Dioxide and Zinc Oxide.
* Oil-Free, Fragrance-Free, Paraben-Free, hypoallergenic
* Cosmetically elegant (offers all physical broad spectrum protection)
* Gentle enough for sensitive skin
*Highest level of UVA protection on the market
*Meets EWG criteria
*Won't clog pores
---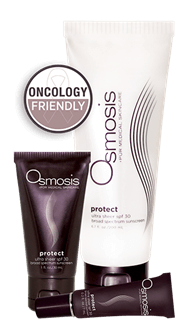 Osmosis Protect SPF 30
Active Ingredients: Zinc Oxide
* Paraben-Free
*100% plant-based, Gluten-Free, Vegan
*Offers sheer, long-lasting coverage
*Great for all ages and skin types
---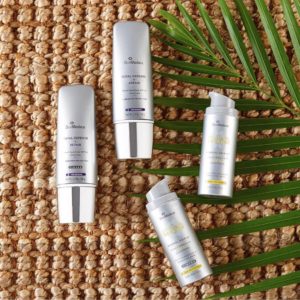 SkinMedica Total Defense plus Repair spf 50 ( Non tinted and Tinted )
*Advanced formula has a powerful blend of antioxidants
*Protects against UVA/UVB and infrared rays
*Helps to correct some signs of aging
*Water-resistant up to 80 minutes
---
Some sunscreens can do more harm than good!
Certain ingredients may actually cause premature aging, as they produce menacing free radicals that can damage skin and cells, while others can accumulate in our bodies faster than we can get rid of them and become toxic/disrupt our hormones.
Top 5 ingredients to avoid:
1 – Oxybenzone
2 – Octinoxate
3 – Retinyl Palmitate
4 – Octocrylene
5 – Paraben Preservatives
The best recommendation we can offer is to talk to your esthetician or medical provider about the ingredients in your sunscreen and other skin care products, and to only purchase products directly from a medical practice. Schedule your free skincare consultation today! 571-266-1776
Have a fun and safe summer !