Liposuction Overview
---
Dr. Mountcastle specializes in "in office" Smartlipo Rriplex.  Having performed this procedure for over ten years and with every technique imaginable from the laser, to an ultrasound-assisted, to traditional tumescent to 'safe' lipo, Dr. Mountcastle has combined different techniques with ten years of experience to create a method which emphasizes on science as much as it does sculpting.  One famous plastic surgeon said the procedure is like vacuuming under a couch. Therefore the pre-op planning, drawing, measurements both pre and intra-op are critical to the outcome of the surgery.
"In office" lipo is defined as the procedure being done on an awake patient using only tumescent anesthesia in Dr. Mountcastle's AAAASF certified operating facility. The surgery takes anywhere from 1 -3 hours and limits of areas done under local are crucial to the success and safety of the procedure done in the office.
Diet and exercise are the ideal ways to achieve a slender, toned physique, but they may fall short of delivering the results you desire. Weight fluctuations, aging, heredity, and pregnancy can lead to stubborn accumulations of fat that cannot be eliminated with even the most rigorous fitness routine. When this is the case, It provides a valuable solution by removing excess fat, as well as slimming and reshaping the body. Lipo can be performed alone, or in conjunction with breast reductions, body lifts, or tummy tuck procedures. To achieve a smoother silhouette, contact Dr. Mountcastle in his Northern Virginia Smartlipo Liposuction Center today located near Dulles Airport in Ashburn Virginia.
Smartlipo creates a slimmer appearance and is ideal for those who are at a healthy weight but still have stubborn areas of fat resistant to diet and exercise. It is not an alternative to a weight loss plan, nor is it a surgery to treat being overweight. "Lipo" is an operation our plastic surgeon, Dr. Timothy Mountcastle performs to remove fat from the body. It is a surgical technique he uses by making a small puncture in the skin using a tube-like device known as a "cannula," which helps to loosen fat cells and suction them out. Usual areas for fat removal include the stomach, hips, lower back, thighs, arms, chin, and chest (in men).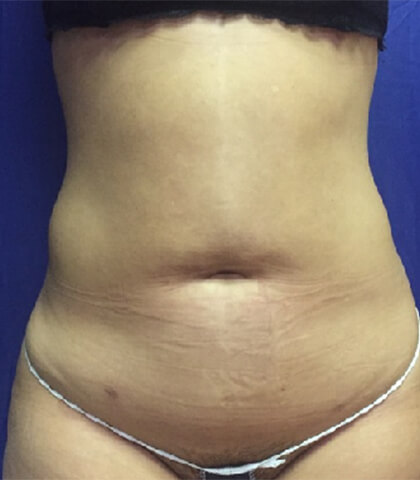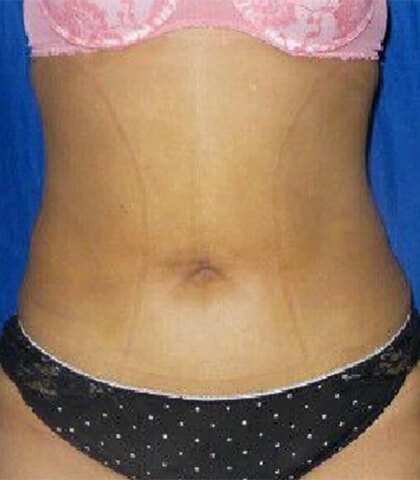 Smartlipo FAQs
How long will it take until I see my results after Smartlipo?
Most patients will see the final results in 2-3 months. Patients will see some results after 2 weeks, but 90% of the results will become fully apparent after 2-3 months post-operatively. During the healing process, it is not unusual to have a hardened or indurated area but rest assured the area will soften over time. Massages can help expedite the softening process, and Dr. Mountcastle recommends to begin immediately after aches and pains from the procedure dissipate.
---
Does Smartlipo involve some form of artistic ability?
Yes, it is absolutely an art form and this is Dr. Mountcastle's craft. While physics does play an important role in the healing process, looking at the body to determine weight measurements and prepare drawings relies heavily on an aesthetic eye for appeal and symmetry.
---
What technique does Dr. Mountcastle use for his Smartlipo procedures?
Dr. Mountcastle uses a unique 5 step approach. He completes a total of 5 phases throughout the procedure utilizing a fan-like technique in each quadrant of the region being treated to ensure accuracy and even fat removal. Each area treated is usually measured as a 5×5 cm area of tissue, and from there the amount of tumescent solution, joules of heat energy, and total fat removed is calculated accordingly.
Tumescent Solution Injection
Phase 1 is the injection of tumescent fluid into the subcutaneous tissue, or the fatty tissue just below the skin. This is the phase that enables the procedure to be seemingly painless and bloodless while the patient remains awake under local anesthesia.
Laser: Skin tightening and fat melting
Phase 2 utilizes a laser to melt the fat that will be suctioned out, while also helping tighten the skin. This laser helps prevent sagging skin after fat removal and stretch marks. The laser tip is methodically guided between the skin and the muscle tissue. Remember, the tissue is numb at this point and the patient should feel no discomfort.
Tissue Break up with basket tip
Phase 3 is where the fatty tissue is broken up using a basket tip cannula. While breaking up tissue, Dr. Mountcastle will concurrently feel for redundant tissues with bimanual palpation. He will keep the integrity of even fat and tissue removal by using his fan-like technique.
Low-pressure suction
Phase 4 is where the liquefied fat is now being removed from the treated area. This is where Dr. Mountcastle is able to sculpt and contour with precision to make the area slimmer and more shapely.
Tissue equilibration with basket tip
Phase 5 uses the basket tip cannula once again to ensure all tissue is evenly distributed once the excess is removed. This is where the art form of liposuction comes into play, as Dr. Mountcastle ensures symmetry and aesthetically appealing final results.
---
What makes Smartlipo so "smart"?
The laser itself is highly intuitive. It is capable of turning itself off when it senses an extended length of time that the surgeon is not operating it, on top of sensing if the laser were reaching too high of temperatures. There is a very low rate of burn complications, and Dr. Mountcastle has never had a single patient receive a burn from the laser.
---
How long will I need to be out of work following Smartlipo?
95% of our patients take off anywhere between 3-5 days after their procedure. Only 5% of our patients will take off beyond 5 days and up to two weeks.
---
Is Smartlipo an inferior procedure and can it be done safely?
Dr. Mountcastle is a double Board Certified plastic surgeon who has performed over 500 Smartlipo procedures in his office over the last 10 years. Each and every patient was able to complete the procedure in its entirety. Some patients had no pain and others reported during some points in the procedure that they felt slight discomfort. This procedure is not for everybody, but performing this on the correct patients provides excellent results in a safe setting. Dr. Mountcastle's office is an AAAASF Certified Ambulatory surgery center, and prides itself on providing the comfort and safety patients should be under when they are receiving the Smartlipo treatment.
---
Surgical Technique
Tumescent "Super-Wet"
A tumescent lipo approach is a standard procedure used by surgeons. It is a suction-assisted (SAL) form of lipo that first injects a liquid agent into the area that is to be treated. The liquid agent includes saline, Lidocaine (a numbing agent), and Epinephrine (a medication that controls bleeding). A cannula is then inserted and passed through the fat deposits, suctioning them out.
---
Ultrasound-Assisted (UAL)
Ultrasound-assisted (known as "VASER") is a technique used in areas where a greater amount of solid fat resides. It's a dual process using ultrasound and suction. First, ultrasound waves transmit energy through a particular device aimed to help loosen and melt the fat. This liquid is then suctioned out using a cannula. UAL is commonly used on men seeking a higher level of muscular definition. You may hear this referred to as hi-def or VASER® Lipo, or only Vaser hi-def.
---
Laser-Assisted (LAL)
Laser-assisted uses laser technology to introduce a burst of energy to the specified area of fat. The laser loosens and melts the fat for removal. This particular type includes brand names such as Smartlipo, SlimLipo, Lipolite Laser Liposculpture, LipoLite, and ProLipo PLUS. For patients seeking a less invasive way to remove unwanted fat and recontour their bodies, Dr. Mountcastle is proud to offer Smartlipo Triplex, which is the newest and 3rd generation device of laser lipo at his Ashburn location in the heart of northern Virginia.
---
During/After Surgery
This procedure can be performed under Local Anesthesia using tumescent anesthesia techniques, or with general anesthesia in an accredited surgical facility. It is considered an outpatient procedure. After surgery, patients will wear a compression garment on the treated areas for 1 to 4 weeks depending on the area treated. Because this operation is performed in the office, the recovery time is relatively short with the vast majority of patients returning to work three days after surgery. Most patients start light aerobic activity within a few days of the operation even though there are only relative contraindications to doing so. Bruising and swelling can commonly occur after surgery, and the compression garments seek to alleviate this as well as providing contouring for the abdomen. It takes about a full week for the bruising and swelling to dissipate and can take several months for the final results to appear although some patients can see significant results as early as four weeks. Scars can occur where the cannula incision was are made, but these are usually small (4mm) and will fade over time.
"Friendly, professional and thoughtful practice. Dr. Mountcastle and his staff make you feel comfortable and explain the procedure you are having in a thoughtful and intelligent manner…"

B.P. / Google Review
"Friendly, professional and thoughtful practice. Dr. Mountcastle and his staff make you feel comfortable and explain the procedure you are having in a thoughtful and intelligent manner…"

B.P. / Google Review
Read More
Liposuction Faqs
How safe is liposuction?
The media sometimes tells stories of patients who have endured bad results at the hands of inexperienced surgeons. Today's techniques are much safer and more predictable than ever before, but the specialist skill remains the number one factor when researching this procedure. The goal is to attain a natural and smooth result. An experienced surgeon will be able to provide this outcome.
---
Is liposuction permanent?
Fat cells that are removed during the surgery do not come back. Unfortunately, patients can still gain weight after surgery because the remaining cells can expand and become larger. However, patients who adhere to a healthy diet and exercise program will continue to see results years after surgery.
Liposuction permanently removes fat cells from the body, which means that if you gain weight after the procedure, it will not accumulate in the same localized deposits. However, although fat is permanently removed, the procedure itself will not prevent you from regaining weight, you will just gain proportionately more weight in other areas of the body that didn't have the liposuction. It is important to maintain your attractive new shape with a healthy diet and exercise regimen.
---
How much fat is removed during liposuction?
The amount of fat removed depends on the size of the patient and their aesthetic goals. From a safety standpoint, the American Society of Plastic Surgeons recommends only 5 liters of fat be removed in the outpatient setting. Otherwise, it is considered a high-volume lipo, which does present an increased set of risks and requires an overnight hospital stay. It's advised to get down to your ideal weight before undergoing this type of body contouring procedure.
---
Does liposuction address skin tautness (laxity)?
Suction assisted liposuction is a surgery that removes fat and enhances the actual shape of the body. It does not address skin imperfections caused by sagging skin or cellulite under the skin. During your consultation, a discussion can be had regarding the available procedures, which address and improve skin texture. Smart Lipo has been revolutionary regarding skin tightening, and a significant number of patients with sagging skin have been converted from excess skin and fat removal surgeries to simply smart lipo triplex. Cellulaze has shown promise with the cellulite producing a 50% reduction in cellulite. Other procedures recommended to correct skin laxity include abdominoplasty, thigh lift, neck lift, and Brazilian butt lift surgeries.
---