Posted June 15, 2018 in Varicose Veins, Vein Gogh Veins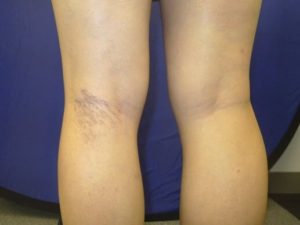 Varicose veins are bulging veins under the surface of the skin. They can often be painful and can cause skin changes, ulcers, leg heaviness/fatigue, and swollen limbs. Any vein may become varicose, but they are most commonly found in the legs and feet. There are more than 3 million cases of varicose veins reported each year in the US, and they are more likely to develop in women than in men.
If you've decided to seek treatment for your varicose veins, here are 5 tips for choosing a vein doctor
Confirm Credentials and Experience
Look for a provider who specializes in vein treatments, as any physician can perform them. You want a board-certified physician that can tell you how many vein procedures they have performed and how often they perform them. The physician should have additional vascular training and employ a registered vascular ultrasonographer (RVT) full-time employee who specializes in venous ultrasound and diseases. Make sure the provider is IAC certified, is an AAAASF certified surgery center, and the staff is ACLS and BLS certified. These criteria are quite difficult to achieve.
Latest Technology
A high-quality vein center will have invested in state-of-the-art technology to diagnose and treat varicose veins. Ask the clinic about the specific equipment and procedures they use on-site; new technology using radio-frequency means less pain and downtime for patients. A variety of treatment options means that the provider is able to tailor each treatment to each patient.
Insurance Coverage
Vein treatments are often covered by health insurance. If a treatment facility states that the procedure may not be covered, it may be because the provider is not credentialed with your insurance for vein treatments due to their lack of experience and/or area of specialty. An experienced vein center will confirm an individual's' benefits and be able to provide the patient with the total out-of-pocket cost (if any) prior to treatment.
Reviews and Recommendations
If you're still unsure about which vein treatment provider to use, ask friends, family, and other physicians you may see for recommendations. Check the vein center's website for testimonials as well as before and after pictures. Review sites such as Yelp, RealSelf, Google, Facebook, etc also offer candid information about the provider and facility.
Evaluate the Center
Visit the center and make sure you are comfortable and confident that they maintain the highest medical standards. The office should be professionally run and the staff should be approachable. Will you see the same doctor and medical team every time? Your comfort with the staff and center is an important part of the success of your treatment.
As you can see, it is important to thoroughly research vein doctors and centers, as they are not always equal.
Dr. Mountcastle has been practicing vascular surgery for over 15 years in the Loudoun County area and has performed more than 10,000 vein procedures (about 500/year). He is the only double-board certified Plastic Surgeon and General Surgeon in the area who is also a Registered Physician in Vascular Interpretation (RPVI). Mountcastle Plastic Surgery and Vein Institute employs RVTs and RNs, is IAC, AAASF, ACLS, and BLS certified.
We offer patients the latest technology to treat vein issues, such as VNUS Closure® procedure, sclerotherapy, and the Veinwave™. Our onsite RVT uses the most current ultrasound technology to properly diagnose vein issues. These treatments provide the most effective vein treatments, with less pain and downtime for patients.
Dr. Mountcastle's staff check insurance coverage and deductibles to provide out of pocket costs for all patients before their first visit. No surprises! Dr. Mountcastle accepts over 16 insurance plans and also accepts CareCredit.
We're more than happy to provide potential patients with testimonials and reviews from patients in our care. Our website features over 100 before and after photos from vein procedures performed by Dr. Mountcastle as well as reviews from various sites.
We'd love to speak with you regarding your vein concerns. Please contact us at 703-782-8244.