Posted April 20, 2016 in Skincare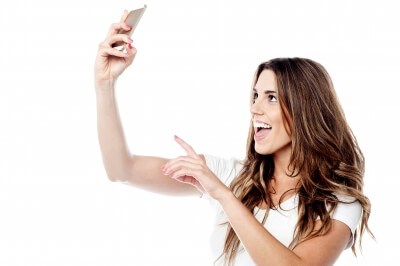 It's hard to miss the prevalence of the selfie in our culture. The obsession can even be downright time-consuming with a recent survey stating Millennials spend 54 hours a year taking selfies and posting the images to social media sites such as Instagram, Twitter, or Facebook. The picture taking is so prevalent there's a good chance anywhere you go there's the potential to see selfie-taking in action whether it's in a car, out shopping, or at any number of social gatherings. When did the selfie become so important to our social makeup? Some might blame the rise of smartphone use and continual improvements in technology, but the sharing of images goes back much farther than the invention of the smartphone. Hard to believe? Just take a stroll around a portrait gallery or an art museum. Here you'll find numerous examples of people who also wanted to share their photo with someone else.
The Desire to be Photo Ready
One interesting element shared by the paintings and photographs displayed at the art museum and the selfies posted on social media is few of the images give a realistic representation of the person. In fact, artists with the ability to create more idealized representations of their subject received more work than those who showed the subject in a more realistic way. In today's selfie culture, individuals also look for ways to show themselves in the most favorable light. This might include the use of filters and makeup or for a rising number of people, it could include trying out non-invasive cosmetic procedures.
A Step Up from Makeup
All around us, we see the influences of a society who desires to be picture perfect at all times. This is apparent everywhere from the high definition TVs to the close-up shots we take on a phone. With such a spotlight on skin and hair, people are looking for ways to repair damage caused by the sun and smooth skin that's dealing with the ravages of hormones and breakouts. One of the best ways to get yourself ready for a close-up in any light is with good skincare. Too often, skincare takes a backseat to make-up, but the great thing about having skin that looks and feels great is there's even less need for make-up because spots and imperfections are fewer and less obvious.
Start with a Clean Slate
One of the best ways to improve skincare is by figuring out what skin needs most at this period of your life. Keep in mind that skin is a living organism and environmental factors and stress can cause disruptions to skin. Determining the most beneficial skincare regime is the first step in repairing and remodeling the skin. The Osmosis Skin Care line carried by Dr. Mountcastle treats skin damage present in the form of acne and acne scars, rosacea, freckles, uneven skin tone, hyperpigmentation, rough skin and build-up of scar tissue. Rather than spending time and money on skincare that could cause irritation and further breakouts, talk to Maria and the other skincare professionals at Mountcastle Plastic Surgery and Vein Institute. Call 703-858-3208 and get yourself photo-ready today! Book now at any of the Mountcastle Plastic Surgery Northern Virginia offices in Ashburn and Reston.