Skincare Overview
---
Consumer or over the counter skincare products tend to be easy to find and inexpensive, but professional skincare products can be a more effective choice for most patients.
Professional skincare products can only be found in medical offices, like Mountcastle Plastic Surgery in Northern Virginia, since they contain more potent ingredients that are more advanced, higher quality, and offer a better delivery system than over the counter consumer skincare products. Plastic surgeon Dr. Timothy Mountcastle and his team of aestheticians help every patient choose the best products for their skin type that treats the root cause of the skin problem. Skincare products in mass retailers and even prestige retailers do not offer the same strength and quality of ingredients because they must appeal to a large range of consumers and be safe for everyone. Since professional skincare products are sold by trained skincare professionals, it is safe to offer ingredients that may not be suitable for everyone.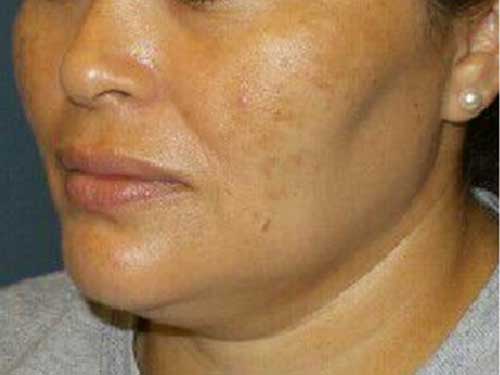 Skincare Procedure
---
One of the biggest benefits of professional skincare products over consumer products is that an aesthetician will help you determine the best products for your skin type and concerns. The aesthetician will also tell you the best way to use each product, how often to use each product, and what order to apply the products. It is still up to you to follow your new skincare regimen, but most patients who do, see great results and healthier skin.
Learn More About Sun Care for your Skin
What to Expect?
It is best to give any new skincare product at least 4 – 6 weeks before you discontinue use. Many products need time to penetrate the skin, treat the lower skin layers, and then wait for the upper layers to slough off and reveal the new, treated skin. It can be helpful for your aesthetician if you keep notes on the effects of your products so they will learn more about your skin and its reactions to certain ingredients. If you experience an allergic reaction, discontinue use of the product immediately.
I have been using Mountcastle Medical Spa & Laser for almost two years and I highly recommend the technicians, the staff and this facility.

M.R. / Yelp / Apr 5, 2019
Read More
Professional Skincare Faqs
What is SkinMedica?
SkinMedica, an Allergan Company, offers professional skincare products that use high-quality ingredients to improve the health of the skin and treat many skin concerns. SkinMedica products have received awards from New Beauty, In Style, The Knot, Martha Stewart Weddings, and Cosmo Latinas. With best-selling products like TNS Essential Serum®, HA5 Rejuvenating Hydrator, Lytera® Skin Brightening Complex, and TNS Eye Repair®, SkinMedica offers a wide range of products to treat your specific skin type as well as your skin concerns and problems. All SkinMedica professional skincare products are created from over 20 years of clinical research and experience, combined with the newest formulations and skincare breakthroughs.
---
What is Osmosis?
Osmosis Pur Medical Skincare was created by Dr. Ben Johnson with the goal of moving skincare away from aggressive exfoliation and to dermal remodeling. Designed to work on all skin types and conditions, Osmosis Skincare works to strengthen and balance the skin for naturally stronger, healthier skin. For patients with special concerns, Osmosis Skincare products are never tested on animals and most products are vegan and gluten-free. Osmosis also includes many oncology skincare products that are safe and effective for patients undergoing certain cancer treatments. Osmosis Skincare products address many skin concerns, including acne, aging, hyperpigmentation, rosacea, eczema, laxity, moles, psoriasis, scarring, and more. One of our skincare professionals will be happy to help you create your best Osmosis skincare program.
---
What is SkinCeuticals?
All SkinCeuticals products are formulated through advanced scientific research and go through careful clinical testing before being added to the professional skincare line. Recommended by several prominent beauty magazines, like Allure, Elle, In Style, New Beauty, Vogue, and more, SkinCeuticals is one of the top professional skincare brands. With products that are formulated for 5 different skin types, SkinCeuticals products are made to either prevent, protect, or correct skincare concerns. A combination of antioxidants and sunscreens in many of their products can help protect your skin from environmental damage and prevent premature aging.
---
Why ss professional skincare more expensive?
Professional skincare products will usually cost more than over the counter products, but you are getting higher quality products that are chosen by a skincare professional specifically for your needs. Since professional skincare products contain more potent ingredients, you will generally use less than consumer products, so it will usually last longer. If keeping your skin healthy and young-looking is important to you, professional skincare products are a good investment.
---